If you're experiencing an issue and need to submit a ticket, the Support Center offers a direct line to the Ad Astra Support team.  In this article, you will learn more about the ticket submission process and how to manage tickets that have been submitted. 
Create a Support Center Account
To gain full access to the Support Center, including the ability to manage tickets, create an account and sign in. If you have not created a Support Center account, and need to submit a ticket, you can either:
Create your account first and then submit a ticket; or 
Submit your ticket and then check your email to complete the account creation process.
How do I submit a ticket?
By selecting the "Support" button in the bottom right-hand corner of this or any page in the Support Center, will open a form where you can enter the details of your issue.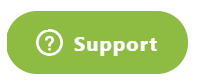 In order for the Support team to understand the issue you're facing, it's important to provide as many details as possible, for example, which instance you're using (if you have multiple instances) and the step-by-step process you are following to produce the issue.  Screenshots and log files are always helpful. When finished, select "Send". Learn more about the information you can provide to help expedite the resolution of your ticket.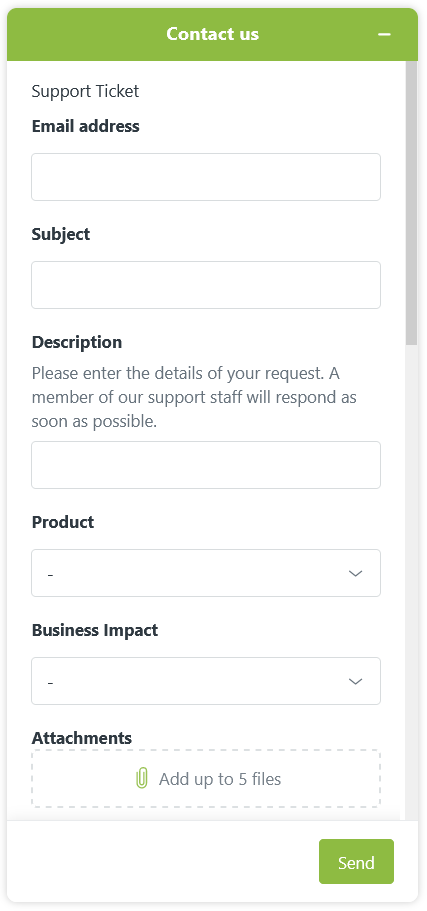 What happens after I submit a ticket?
When you submit a ticket, two things will happen. Your ticket will be sent straight to the Support team for review.  At the same time, you will receive an email confirming that your ticket has been received.  As changes are made to the ticket, like comments or status updates, you'll receive email notifications about the changes. 
You can add comments or additional information to a ticket by either replying directly to the email notification or by going to "My Activities" in your Support Center account.
My Activities
To find tickets in the Support Center, go to "My Activities" under your picture to view different categories of tickets and activities.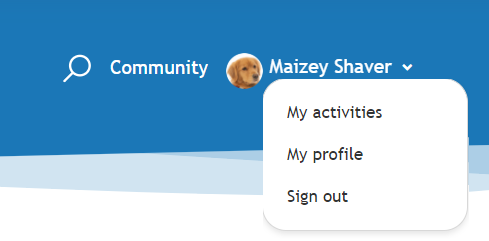 My Requests: tickets you have submitted
Requests I'm CC'd On: tickets submitted where you were copied that you can reply to
Organization Requests: tickets submitted by someone in your organization to view (permissions required)
My Requests
You can view tickets you have logged and their current status. Statuses include: Open, Awaiting Your Reply, and Solved.  To easily find a specific ticket, use the search bar, status filter, or by sorting the list. Simply click on a ticket to review the details and any comments made with the Support team.  
Request List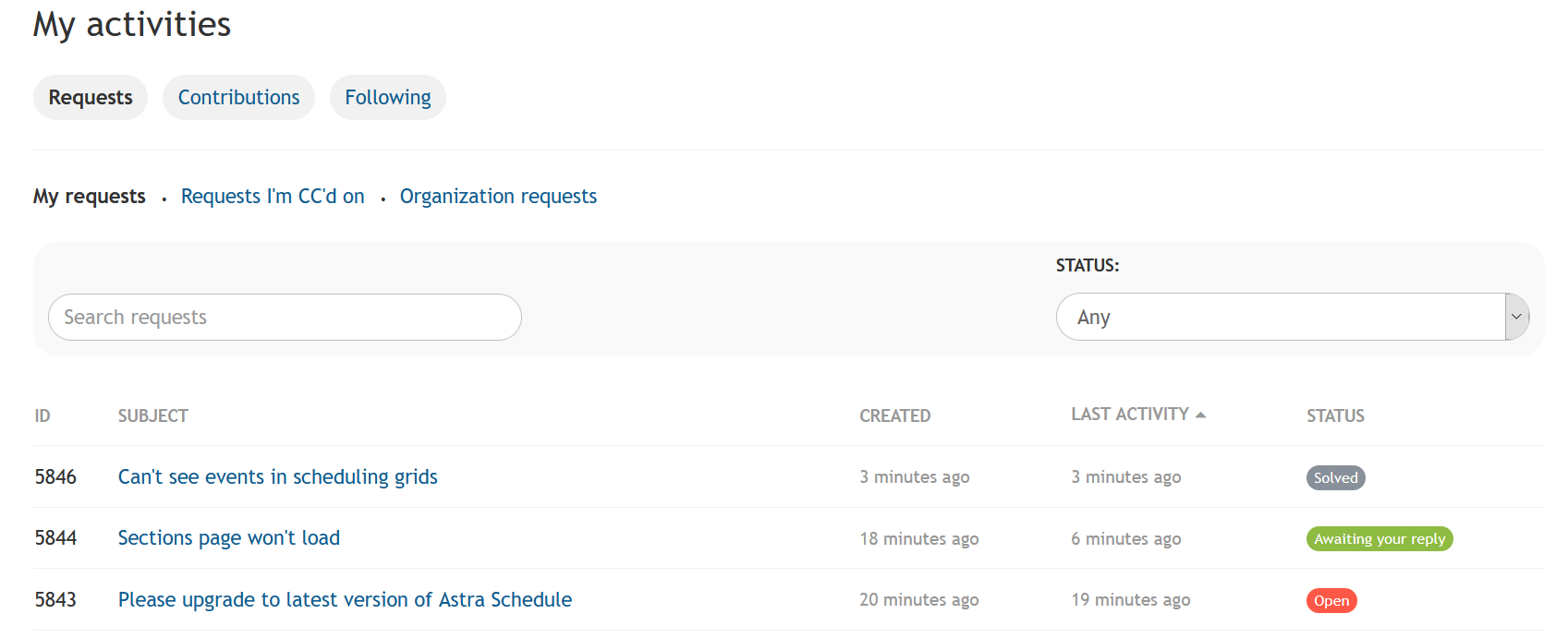 Ticket Details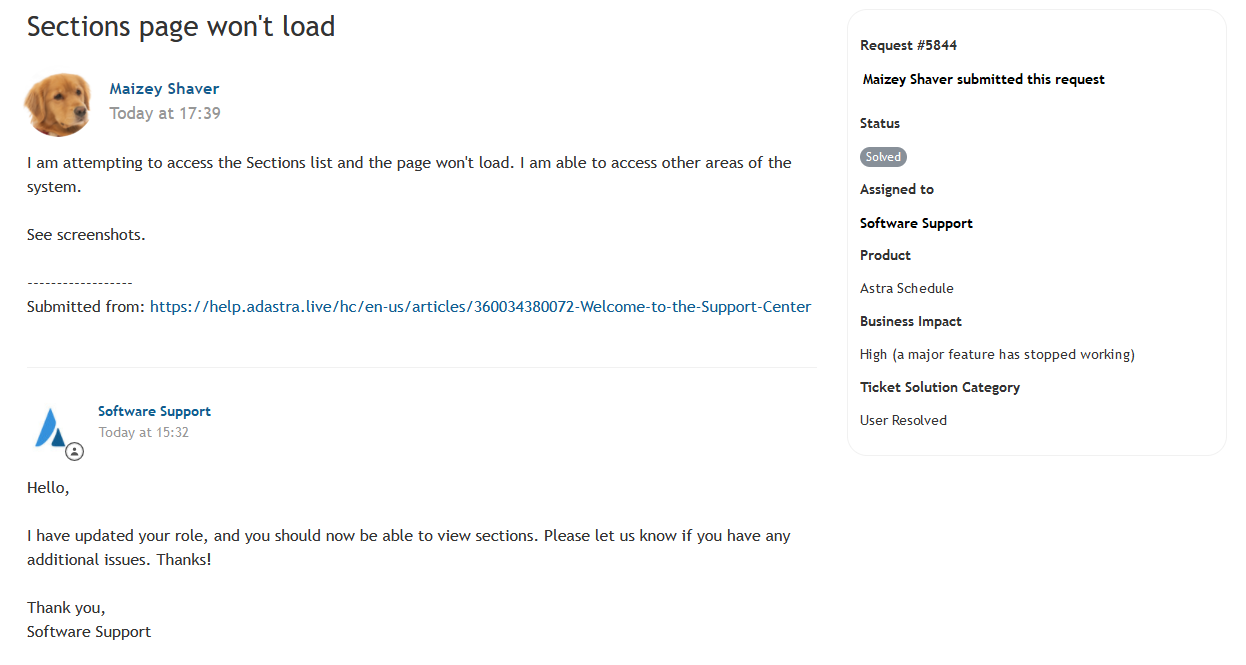 Requests I'm CC'd On
You can copy other people on a ticket you have submitted by adding their email address(es) in the comments sections of the ticket.  The recipient(s) will receive the same email notifications you do as long as they are CC'd.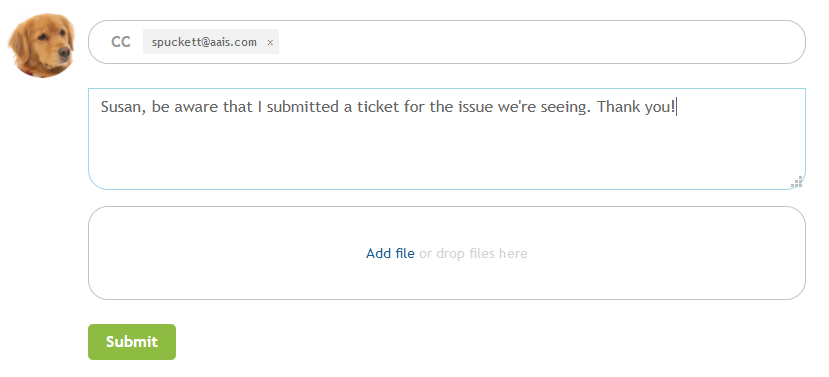 Users CC'd on tickets will find them under the section called "Requests I'm CC'd On" and can add comments to the ticket just like the requester can. 

Organization Requests
If you are granted access to view all tickets submitted by users at your institution, you will find them in a  section called "Organization Requests". You can view tickets submitted by users in your institution, but not comment on them.
We understand some institutions may not be comfortable giving this organization-level ticket access and want to respect the policies and procedures for the institution.  For this reason, the default setting for organization-level tickets is not available to Support Center members. If you need this access, the Ad Astra system administrator for your institution can submit a ticket and request access on your behalf.