What is the Support Center?
The Ad Astra Support Center is a central place where you have access to help documentation, training resources, support ticket management, and a community of Ad Astra users who support each other by sharing questions, best practices, and product feedback.
The Help homepage contains help and training content provided by Ad Astra. The Community homepage typically contains questions, discussions, and best practices provided by Ad Astra users.
Support Center Access
The Support Center can be accessed through the following channels:
Ad Astra company website under Resources > Support > Support Center
Astra Bot in Ad Astra Apps (app.adastra.live)
"Help" links in Astra Schedule Version 8
Perks of Creating an Account
By creating an account, members can do the following in the Support Center.
Submit and manage support tickets
Track and manage your Support Center contributions
Create posts in the Community with questions, best practices, and product feedback
Comment on Help articles and Community posts
Follow topics or individual articles and receive notifications when members comment or new Help articles and Community posts are created.
Vote on Community posts to highlight valuable content.
Submit and Manage Support Tickets
To learn how to submit and manage your support tickets, check out How to Submit and Manage Support Tickets.
Submit tickets for support or technical assistance
Track and manage support requests
Following Content
You can follow content (articles, posts, and comments) for an entire topic, or you can follow comments for a specific article or post. If you prefer to receive notifications through email when new content is added, choosing to "follow" content may be a better option.
If you follow an entire topic, anytime content is added under that topic, you will receive an email notifying you of the added content and where to find it.
If you follow a specific article or post, when someone comments on the article or post, you will be notified. Authoring a post in the Community automatically selects follow for you.
You can manage your notification settings in "My Activities" under your profile icon. Topics are subject to change over time. As a best practice, occasionally review the list of topics to ensure you are following topics of interest.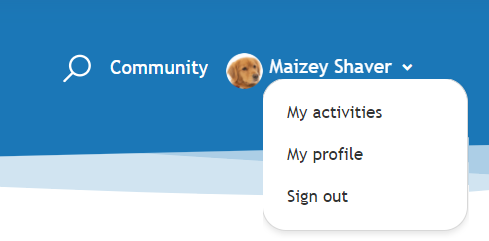 How do I get started?
If you would like to begin engaging with others in the Community, head on over to Welcome to the Community, where you can find posts on the following topics. 
Introduction to the Community
How to manage your account
How to post questions, best practices, and product feedback